Fall is the season for comfort food.
The cooler weather and shorter days make us crave hearty, savory dishes that warm us up from the inside out. And with all the family gatherings and holiday feasts happening this time of year, there's no better excuse to get creative in the kitchen.
From savory-sweet pumpkin pies to spicy chilis, there are endless possibilities when it comes to fall flavors. So why not experiment with some classic recipes or try something new? After all, there's no better way to enjoy the season than with a delicious meal made with love.
So, if you're looking to prepare easy and delicious recipes this fall, here are the top five to try.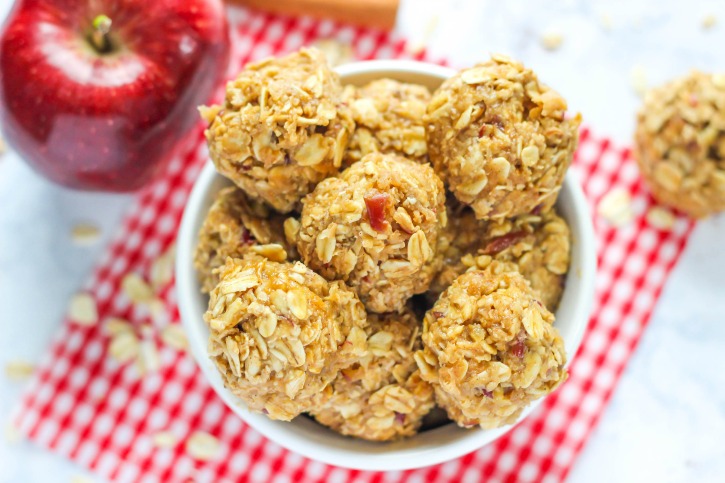 Apples are commonly used in pies, crisps, and other desserts. But if you want something quicker and easier, try these apple cinnamon bites.
You need:
rolled oats
applesauce
honey
cinnamon
First, preheat the oven to 180°C/350°F and use parchment paper to line a baking tray.
Mix the oats, applesauce, honey, and cinnamon in a large bowl. Roll the mixture into balls and place them on the prepared baking sheet. Then, sprinkle the balls with cinnamon sugar. Bake for 10-12 minutes, or until golden brown.
The apple cinnamon bites work as a great snack for the kids, but if you want something more baby-friendly, these applesauce oatmeal cookies are perfect!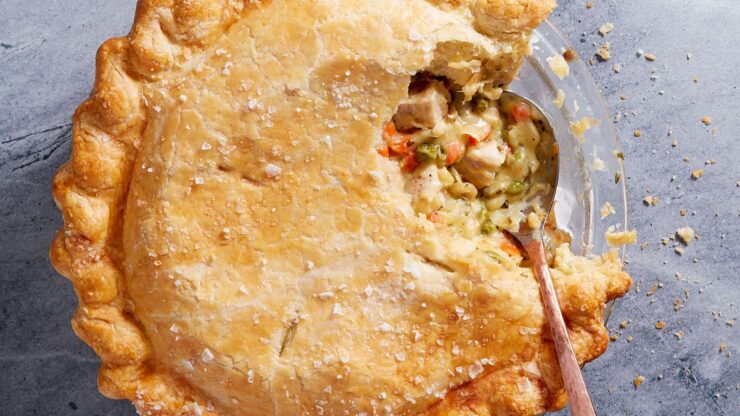 Nothing says fall like a delicious homemade pot pie. It's a classic comfort food that will make the perfect cozy dinner.
You need:
onion
celery stalk
carrots
garlic cloves
all-purpose flour
dried thyme and rosemary
chicken broth or stock
chicken breasts
frozen mixed vegetables
Salt and pepper to taste
butter
milk or cream
cheese
ready-made pie crusts
Start by heating vegetable oil in a large pot. Add the onion, celery, carrots, and garlic, cooking until softened. Stir in the flour, thyme, and rosemary. Next, add the chicken broth and bring to a simmer. While simmering, cut the chicken into cubes and cook until it's done. Look for the ideal internal temperature for optimal doneness.
Add the vegetables, season with salt and pepper, and turn the heat off. Preheat oven to 400°F (200°C). Melt the butter in a separate saucepan over medium-low heat, then add milk or cream. Simmer for about 1 minute before adding cheese and stirring until melted. Place one pastry sheet into the bottom of a 9-inch pie plate, then pour in the filling and top with the second pastry sheet. Cut a few slits into the top crust to allow steam to escape and bake.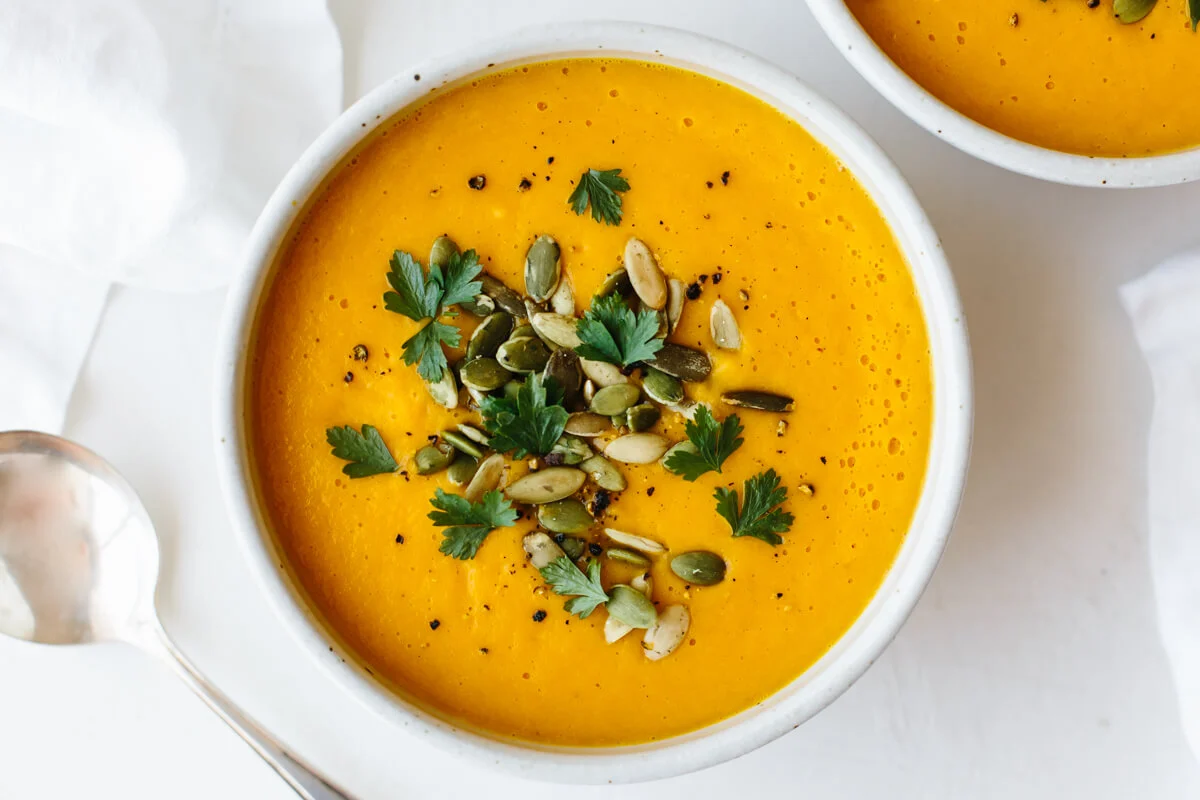 Butternut squash is the go-to ingredient for fall recipes. This creamy and tasty soup is the perfect way to welcome cooler temperatures.
You need:
olive oil
onions
carrots
celery stalks
garlic
butternut squash
vegetable or chicken broth
Start by dicing the onion, carrots, and celery and mincing the garlic. Next, use a large pot and heat the oil over medium-high heat before adding the chopped vegetables. Sauté for about 7 minutes until vegetables are softened.
Next, add the butternut squash cubes and sauté for another 3-4 minutes. Pour the broth, boil, then reduce heat to low-medium and simmer for 25 minutes until the squash is tender.
Once cooked, remove from heat and use an immersion blender to puree the soup. Serve warm with olive oil and freshly cracked pepper on top.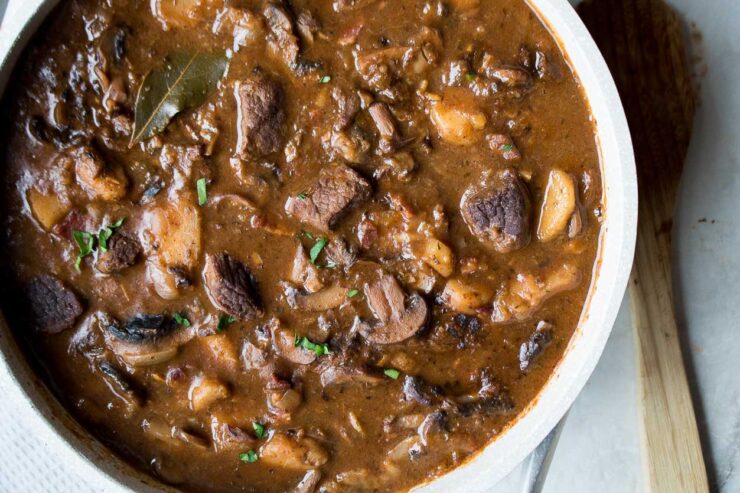 This beef and mushroom stew will become a family favorite this fall. You only need one pot and some essential ingredients for a delicious dinner.
You need:
olive oil
beef
garlic
onion
carrots
parsnips
tomato paste
beef broth
rosemary
bay leaves
Heat a large pot over medium-high heat and add the oil. Tenderize the beef and cook until lightly browned on each side.
Next, mince the garlic, slice all the vegetables, and add them to the pot. Cook for another 5 minutes until vegetables are softened. Add tomato paste and cook for another minute until the paste is lightly browned.
Pour in the beef broth along with rosemary and the bay leaves. Boil it, reduce heat to low-medium, cover, and simmer for at least an hour until beef is tender.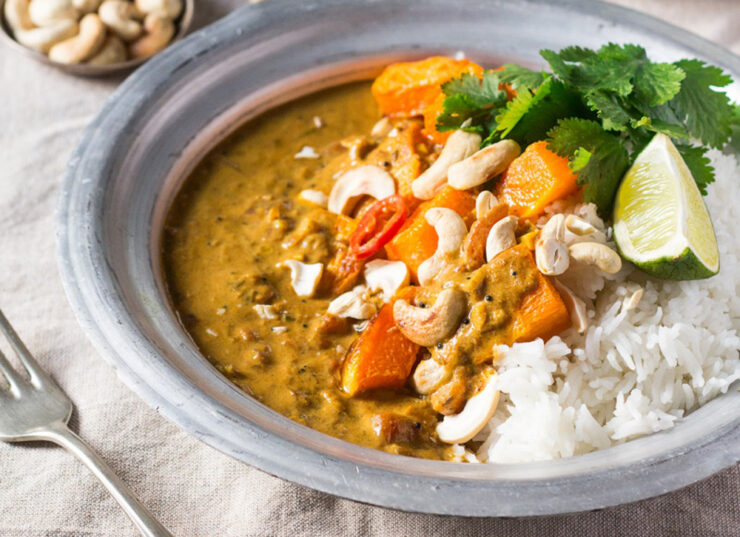 Fall and no pumpkin-based dishes? Impossible. So, whip up this vegan-friendly coconut pumpkin curry and enjoy a healthy, flavorful meal – perfect for cold autumn nights.
You need:
olive oil
red onion
garlic cloves
ginger
curry powder
cumin
pumpkin cubes, cooked and mashed
coconut milk
lime or lemon juice
Heat the olive oil in a pot over medium heat and add the onions, garlic, ginger, curry powder, and cumin. Add the mashed pumpkin and coconut milk once the onion has softened (about 5 minutes) and the spices are fragrant.
Let it cook for 10 minutes before stirring in the lime or lemon juice right at the end. Serve with cooked rice or quinoa.
Conclusion
Whether you're craving sweet-savory flavors or hot and hearty meals, these fall recipes are sure to please. Prepare applesauce oatmeal cookies – the perfect snack for chilly autumn days – or warm up with a comforting bowl of butternut squash soup. For dinner, try the beef and mushroom stew or coconut pumpkin curry for a flavorful and nourishing meal. If you are a chicken lover, try the chicken pot pie and have everyone in your family asking for seconds.