We've all heard the phrase, "You are what you eat." And it's true because what we put into our bodies directly impacts our overall health and well-being. However, many people struggle with maintaining a healthy diet because they think healthy food is tasteless, expensive, and not filling. Or they're caught in the whirlwind of a busy schedule and resort to tempting convenience foods often high in calories, unhealthy fats, and sugar.
The result of this fast food frenzy? An increase in chronic health conditions such as obesity, heart disease, and diabetes. Sounds scary, right? So, ditch the drive-thrus, frozen dinners, and delivery services and prepare healthy meals at home.
You can prepare these six delicious recipes at home that make healthy eating easy, affordable, and enjoyable.
1. La Scala Chopped Salad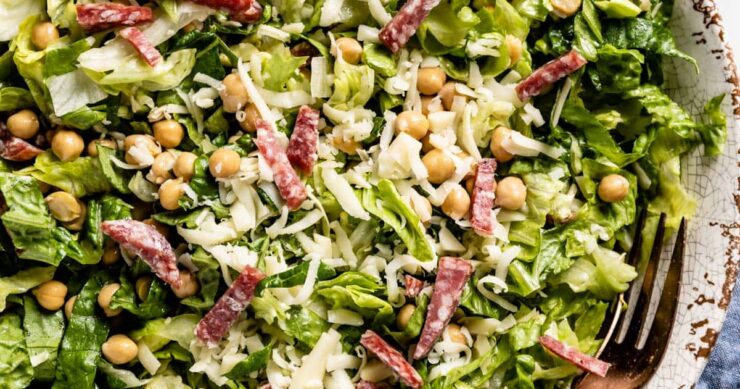 This Italian-inspired salad recipe was invented by restaurateur Jean Leon and was served at his Beverly Hills restaurant in the 1950s. It's perfect for lunch, dinner, and can also be served as a starter. This salad is made with the following ingredients:
For salad:
Iceberg lettuce
Romaine
Chickpeas
Italian salami
Mozzarella cheese
For dressing:
Olive oil
Red wine vinegar
Dijon mustard or dry mustard
Kosher salt
Black pepper
Pecorino or Parmesan cheese
Since this is a chopped salad, all the ingredients should be in bite-sized pieces. Add the salad ingredients to a bowl and set it aside.
Make the dressing by whisking olive oil, mustard, red wine vinegar, pepper, and salt in a measuring cup or a small bowl. Stir in the Pecorino Romano or Parmesan cheese and your la scala salad is ready.
2. Avocado Toast with Poached Eggs and Spinach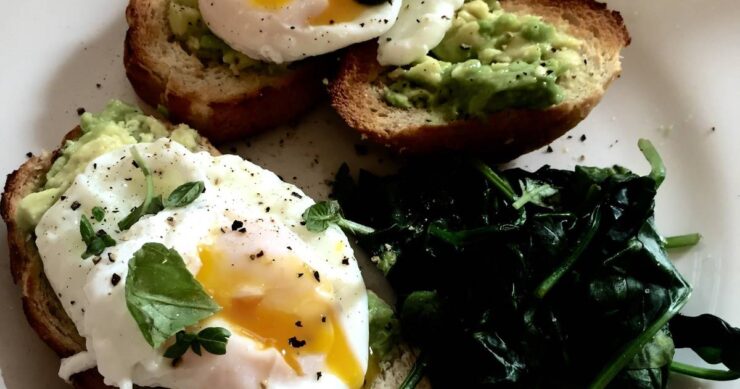 If you usually run late in the morning, then you can whip up this simple, quick, filling breakfast recipe that energizes you until lunchtime.
You need:
Avocado
Whole wheat or gluten-free bread
Eggs
Fresh spinach leaves
Salt
Pepper
Cut the avocado, remove the pit, and scoop the flesh into a small bowl. Mash it with a fork until it's smooth. Toast the bread and spread the avocado mixture on top.
Heat a small pot of water and add a dash of vinegar. Once it gently simmers, crack the eggs and cook for 3-4 minutes.
While the eggs cook, sauté some fresh spinach leaves with olive oil until they are wilted. Season with salt and pepper to taste.
Place the poached eggs on the avocado toast and garnish with the sautéed spinach.
3. Turmeric and Coconut Fish Curry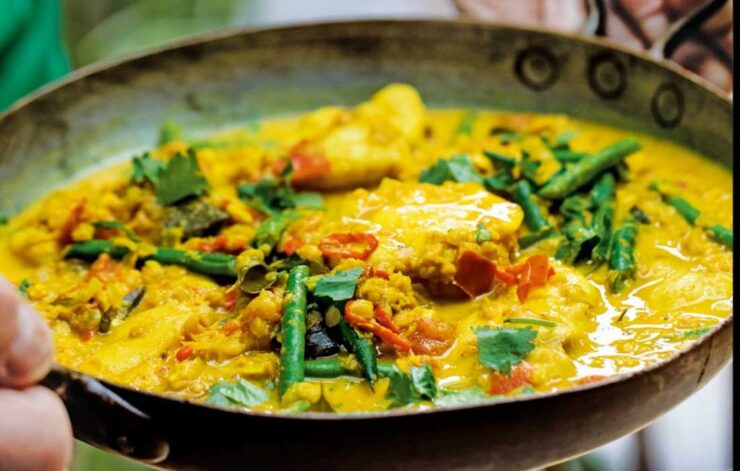 This hearty fish curry is an explosion of flavors and perfect comfort food for chilly days.
You need:
Coconut oil
Onion, chopped
Garlic, minced
Ginger, grated
Diced tomatoes
Lime (juice and zest)
Curry powder
Turmeric powder
Salt
Pepper
White fish fillets
Fresh cilantro, chopped
Heat coconut oil in a large skillet over medium heat. Add onion, garlic, and ginger and sauté until fragrant. Pour in the coconut milk, diced tomatoes, lime juice and zest, curry powder, turmeric powder, salt, and pepper. Simmer for about 10 minutes.
Add the fish fillets to the skillet, submerging them in the sauce. Cover and let simmer until the fish flakes easily with a fork.
Serve over rice or quinoa and garnish with fresh cilantro.
4. Roast Chicken Panzanella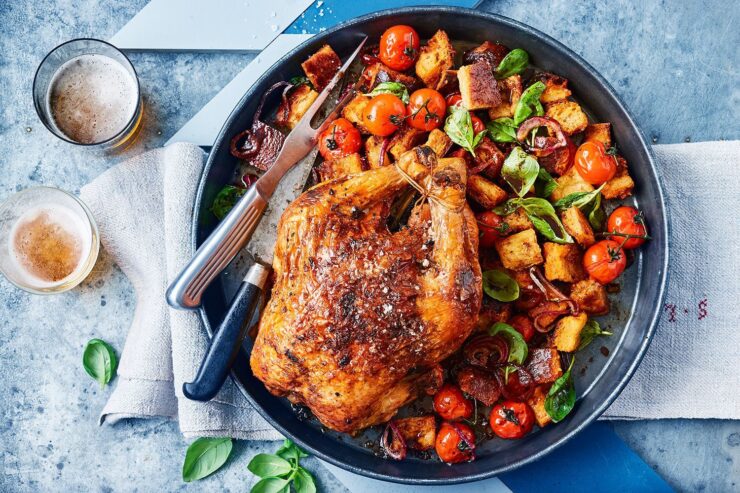 Are you craving a one-pan meal? This tender, juicy chicken with crispy skin and a savory Panzanella will slip you into a food coma.
You need:
Chicken breasts
Rosemary sprigs
Lemon
Garlic cloves
Olive oil
Salt and pepper
Zucchini
Bell peppers
Onion
Cherry tomatoes
Preheat your oven to 375°F.
Season chicken with rosemary, lemon juice, minced garlic, olive oil, salt, and pepper. Place the chicken in a baking dish and surround it with sliced vegetables (zucchini, bell peppers, onion, and cherry tomatoes). Bake for 40 minutes. Make sure to avoid common mistakes when making chicken.
Serve with a side of rice or quinoa for a complete meal.
5. Roasted Pumpkin and Ginger Soup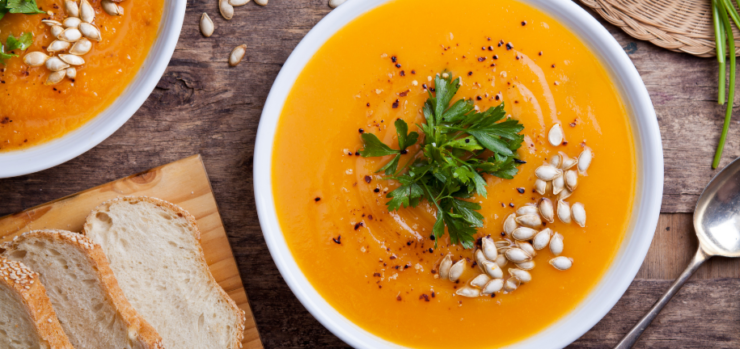 This soup is sweet, spicy, and creamy (if you want) – the perfect mouthwatering, nutrient-rich dish for a cozy night.
You need:
Pumpkin
Olive oil
Salt
Pepper
Onion, chopped
Garlic cloves, minced
Ginger, grated
Vegetable or chicken broth
Heavy cream (optional)
Preheat your oven to 400°F. Cut the pumpkin into wedges and remove seeds and strings. Brush with olive oil, sprinkle with salt and pepper, and roast for 30-40 minutes.
Meanwhile, heat olive oil over medium heat. Add the onion, garlic, and ginger and sauté until fragrant. Scoop out the roasted pumpkin flesh and add it to the pot and broth. Boil to combine all ingredients. Use a blender to puree the soup.
At this point, you may add heavy cream for a creamy texture or leave it out for a lighter soup. Simmer for 10 minutes and adjust the seasoning to your liking. Garnish and serve hot.
6. Mole Brownie Tart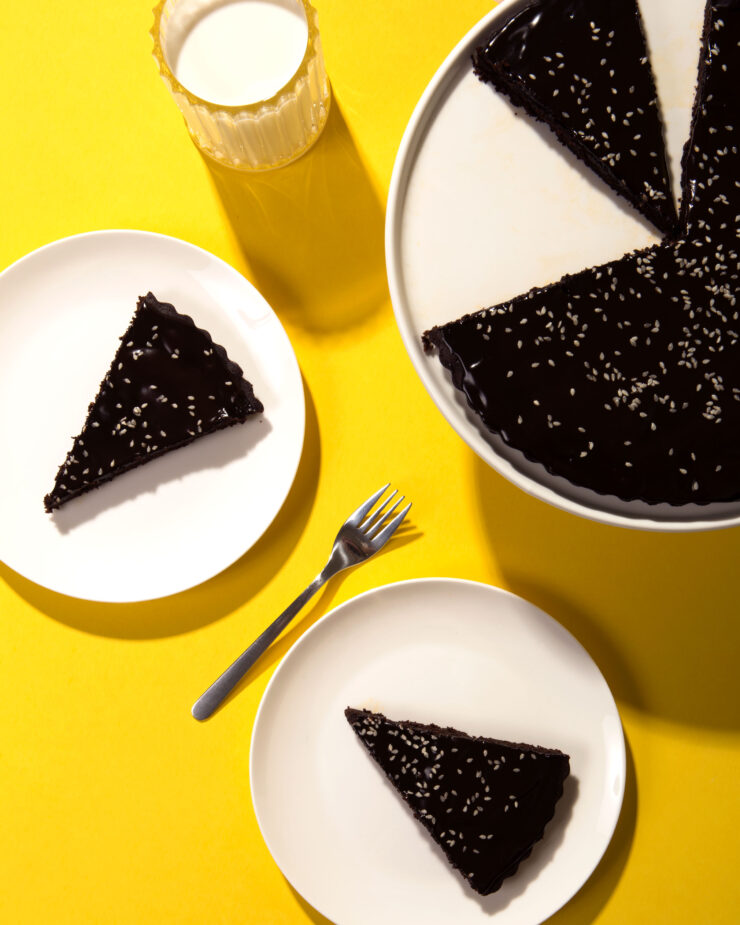 Who says desserts aren't allowed in a healthy meal? This fusion of Mexican flavors and traditional chocolatey treats is an indulgence you won't feel guilty about.
You need:
Almond flour
Unsweetened cocoa powder
Baking powder
Honey or maple syrup
Eggs
Salt
For mole sauce:
Dried ancho chili pepper, seeded and cut into pieces
Peanut butter
Almond milk
Unsweetened cocoa powder
Cinnamon powder
Preheat your oven to 350°F. Mix the almond flour, baking powder, and cocoa powder in a bowl. In another bowl, beat the eggs with honey or maple syrup and salt until well combined.
Combine both mixtures and pour into a greased tart pan. Bake for 15 minutes.
While the crust is baking, make the mole sauce by heating all ingredients in a saucepan over medium heat. Blend it. Pour the sauce on the baked crust and bake for another 10 minutes. Let it cool before serving.
Conclusion
Healthy eating is no more "boring" or "restrictive" with these easy and delicious recipes. Prepare La Scala chopped salad for a quick and refreshing lunch, and enjoy the goodness of fresh vegetables and protein. Add a bowl of roasted pumpkin and ginger soup for a complete meal. If you love Italian cuisine, here are some recipes you must try!
Indulge in the Mole Brownie Tart for a guilt-free dessert. Turmeric and coconut fish curry, roast chicken panzanella, and avocado toast with poached eggs and spinach are just some other tasty yet nourishing dishes to add to your weekly meal plan.